Why Specify Plate Heat Exchangers?
Plate heat exchangers have been successfully used for decades. The oldest and most common design is a "Plate and Frame" heat exchanger. They are used in many industries and can be configured in sizes as small as a picnic basket or as large as a small truck. They are thermally efficient, repairable, and budget friendly.
Other, Welded Plate Heat Exchanger options employ more sophisticated design features and offer robust service in difficult environments. Each type of unit below provides unique attributes. Consider what are the most important attributes needed for your application, beyond datasheet pressure and temperature specifications. Lone Star Thermal Engineering will discuss and study your needs and walk through the options with you. Give us a call.
Below are the Welded Plate Heat Exchangers offered. Click a button to view the PDF Technical Bulletin, description datasheet.
All units can be certified to the ASME Boiler and Pressure Vessel Code, Section VIII, Div. 1 stamp and datasheet by American Bureau of Shipping as well as Lloyds and other National Board or agency underwriters.
Please download this blank data sheet with the necessary parameters needed to design the correct heat exchanger for your application. One page is in Imperial units and the other in metric units. Only complete the sheet with the units that you are specifying, then email it to gyoung@lsheattransfer.com.
Welded Wide Gap HX
Able to Handle Heavy Liquids with High Solid Content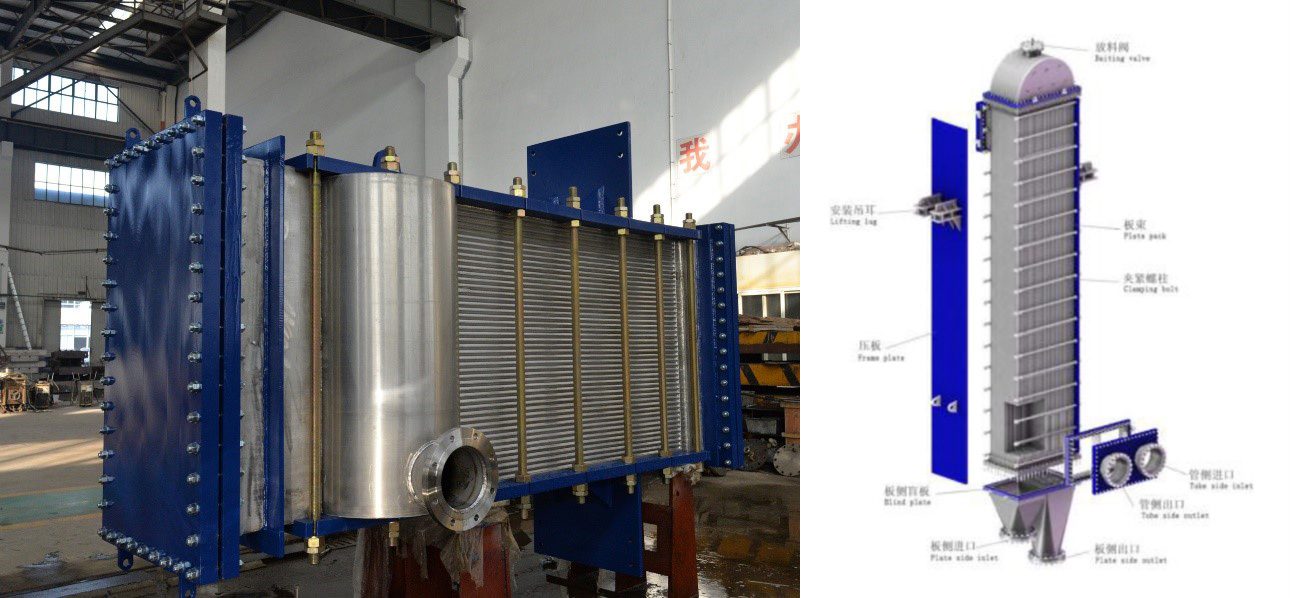 Gap space between plates between 5/16" to ¾" (19mm) max
Easy cleanability with straight through access from both ends
Resistant to suspended abrasive particles
Design pressure maximum ~500 psi (3.5MPa)
Design temperature ~400OF (200O C)
Flat or dimpled pressed plate pattern for high thermal transfer
Horizontal or vertical installed orientation
Able to handle viscous, fibrous, high solid content fluids
Hybrid HX
Handles Phase Change & Higher Pressure and Temperature
Hybrid HX Typical Process Applications:
Coke Plant Light Oil Heating
Steel Mill Cooling Water
Crude Oil Stabilization
Lean-Rich Amine
Gas sweetening
Ethylene Glycol
Ethylene Oxide
Caprolactam
Chlor-alkali
Ammonia
Phenol
Urea
Flue-gas Heat Recovery
Feedwater Preheater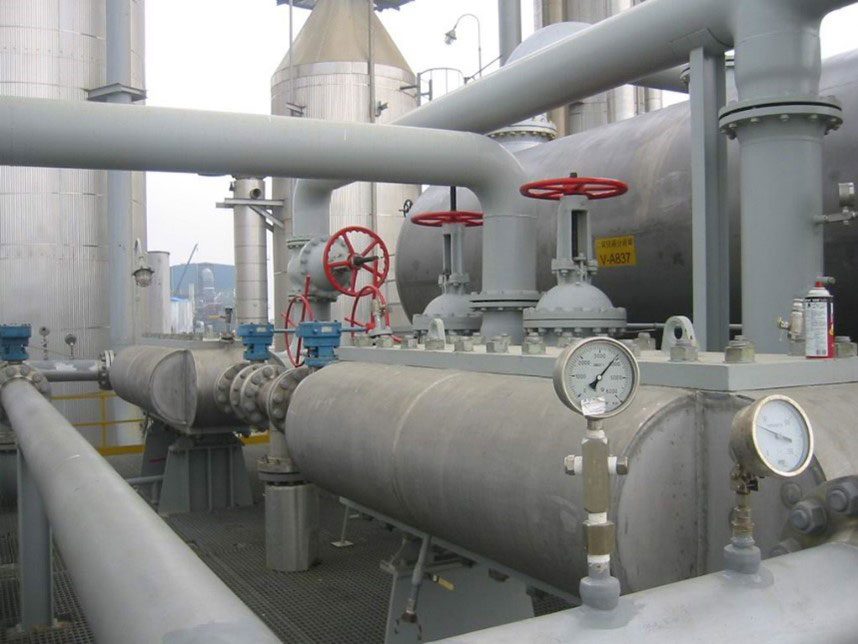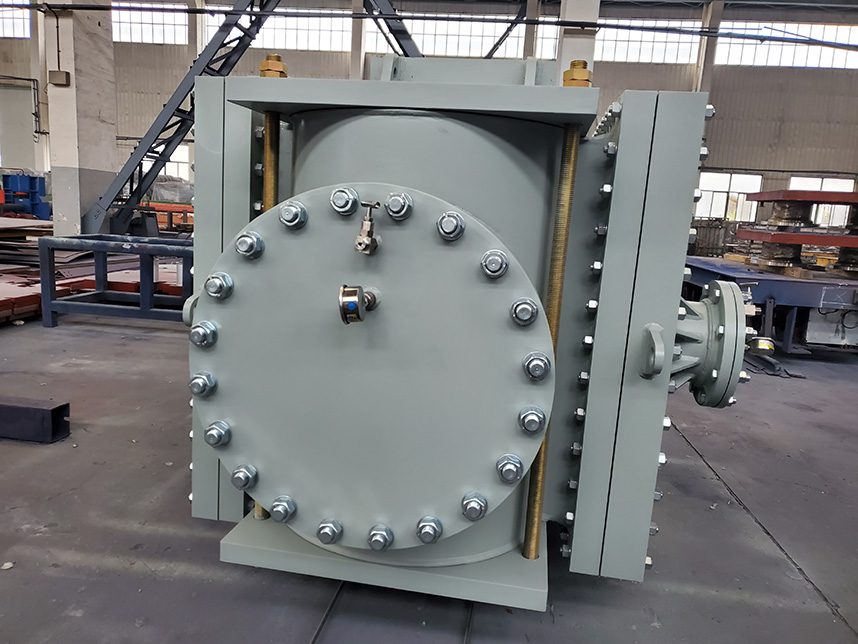 Designed for mixed phase fluids
Large throughput design possible, 20,000 ft2 plate area
Compact volume and footprint for large capacity HX
temperature design 650OF (340O)
pressure 870psi (6 MPa)
gap space 0.030 in (8mm)
Cleanability: mechanical access on process side plus chemically
Installation orientation either vertical or horizontal
Various inlet & outlet nozzle locations for piping alternatives
Fluids can be cross flow or parallel and multiple pass options
Easy cleanability with straight through access from both ends
Dimpled pressed plate pattern for high thermal transfer
Alloy plate selection: 316L or Duplex stainless steel, nickel alloys
Designed options include: evaporator or reboiler
Block HX
Best Heat Recovery Heat Exchanger
High thermal transfer rate. High Efficiency
Low approaching temperature design for maximum efficiency
Resistant to fouling and clogging - saving maintenance dollars
Flexible flow options: cross flow, concurrent direction flow, counter current flow
Mechanically cleanable in addition to chemical back-flushing
Designed with no tight crevices that would promote corrosion
Alloy thermal plate options for highly corrosive fluids
Titanium, nickel alloy, Duplex stainless steel, 316L stainless steel
Laser Welding of alloy thermal plates ensures high reliability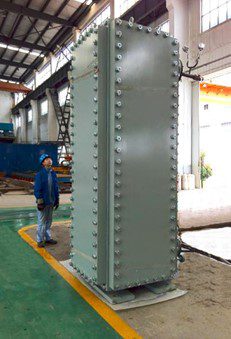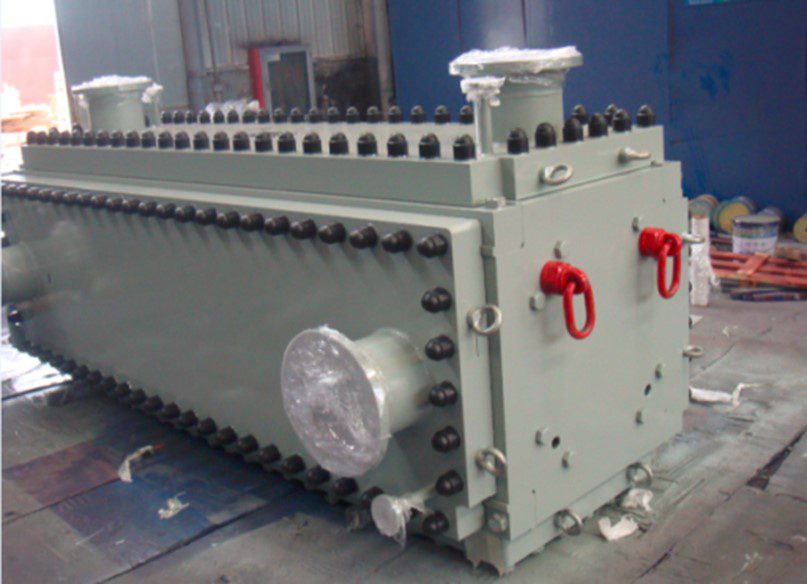 Plate and Frame HX
High Efficiency, Easy Cleaning & Good Value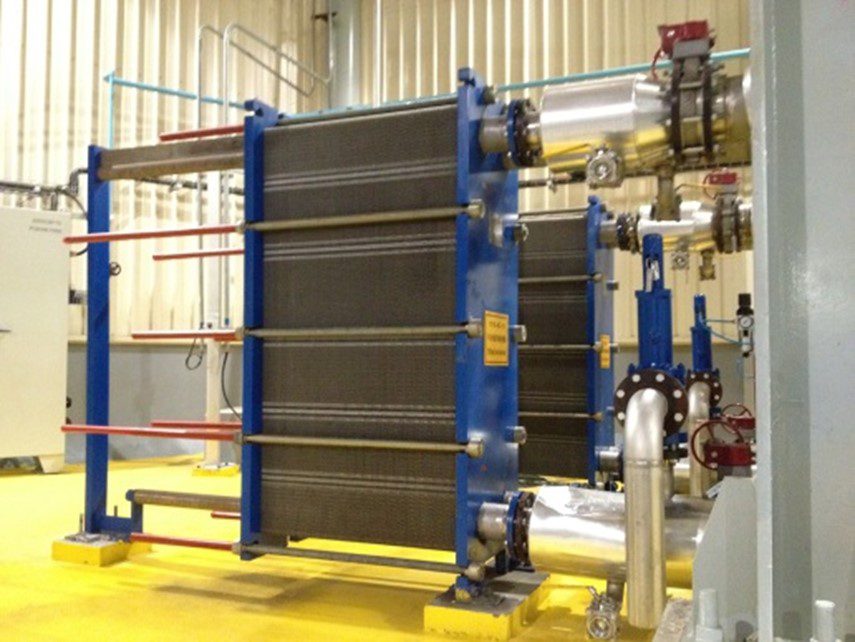 Alloy plates formed using designed pattern for increased heat transfer
Used to heat or cool a process fluid with a media fluid
Various alloys can be selected to prevent corrosion from the fluids
The thermal transfer plates are rigidly held in bolted frame between heavy plates with special gasket material between the thermal plates
This allows complete disassembly for cleaning if needed.
If damage or corrosion to the thermal plates occurs, they can be replaced when the unit is disassembled
Replacement plates and gaskets are readily available from Lone Star Thermal Engineering

Plate & Frame HXs Are Available in Many Sizes for Many Applications
Various Plate Patterns and Sizes Offered
We Have Press Dies for All of These Plates